Community Support

We deeply appreciate the members of our community who have reached out to us with supply donations, food deliveries, and messages of support for our hardworking staff at Virginia Hospital Center. If you would like to show your support for Virginia Hospital Center and our staff, please email foundation@virginiahospitalcenter.com to connect with our team.
Supply Donations
The Hospital is accepting donations of manufactured, packaged medical gowns, gloves and masks in unopened boxes. Please email foundation@virginiahospitalcenter.com to connect with our team. We are not accepting donations of homemade masks for safety reasons.
We are accepting donations of the following in unopened boxes:
Goggles
Hand sanitizer
Face shields
Medical isolation gowns
Bleach/bleach wipes
Food Donations
Please note the suggested guidelines below for food donations, and send an email to foundation@virginiahospitalcenter.com to coordinate delivery:
Prepared food can be accepted only from certified restaurants and catering companies.
Items must be individually packaged, boxed and labeled.
We cannot accept items such as open trays of food or large containers.
We cannot accept homemade food.
Yard Signs & Personal Notes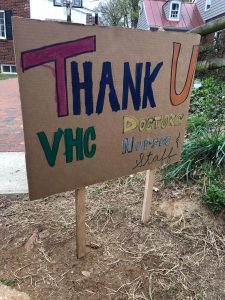 Send an email to foundation@virginiahospitalcenter.com and include your note and a photo of your signs, posters or neighborhood chalk walk. We will share your message with the VHC team.
Donate Blood
Blood Donations across the country have dropped significantly due to the COVID-19 pandemic response.
The support of new and current blood donors is critical to maintaining an adequate blood supply for our patients that rely on the generosity of donors every day.
Donor health and safety is always a top priority for both the Donor Center and Blood Drive hosts.
Individuals are not at risk of contracting COVID-19 from donating blood. There have been NO REPORTED CASES or SUSPECTED CASES of transfusion transmitted COVID-19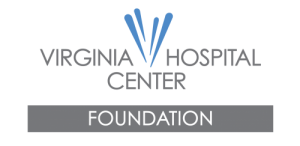 Virginia Hospital Center is taking a series of important and necessary actions to mitigate the impact of COVID-19. A special COVID-19 Appeal has been launched to make sure the resources that are required to treat our patients effectively, to keep our employees safe, and to maintain critical partnerships remain available so that we can protect our community's safety and well-being during this unprecedented pandemic.
Virginia Hospital Center has always been there for the community, but we can't do this alone. This is a once-in-a-generation chance to join together to ensure the safety and well-being of patients, patient families, Hospital employees, and the communities we serve in and around Arlington.  We invite you to participate in this special appeal and thank you in advance for your support.